———————————————————————
IMPORTANT UPDATE, Tuesday 24 May
Owing to illness, Gareth John is unable to perform this evening. We are hugely grateful for Julien Van Mellaerts for stepping in at short notice, and are thrilled to be able to be able to replace Gareth with an artist of such a high calibre.
———————————————————————
Welcome to the website of Kensington and Chelsea Music Society.
Launch of our 2022 Concert Series
On behalf of the KCMS committee, I am delighted to introduce our 60th season of concerts. Our 59th season was curtailed by the pandemic, and for the same reason this season will begin in January and run for six rather than the usual seven concerts. I am delighted to announce that in spite of all the challenges of the last two years we have, as always, an outstanding programme, featuring a mixture of new and established artists. They will perform an immensely varied and exciting programme of chamber music, song and choral works. I am particularly delighted to welcome several artists whose planned concerts we had to cancel in 2020 and 2021, as supporting the work of musicians is one of the core objectives of KCMS. Owing to the continuing renovation of Leighton House, we will be holding all our concerts this season at St George's Church in Campden Hill, a welcoming and accessible venue where we have held many concerts in the past. All concerts will start at 7.30pm and include interval drinks.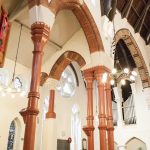 We will also continue to give three young, local musicians "Five Minutes of Fame" slots over the course of the season in association with the Wandsworth Young Musician of the Year Competition. Supporting young talent is very important to KCMS, and we continue to find innovative ways to support emerging artists. We are also delighted to partner with two other local organisations, Opera Holland Park and the Royal College of Music, for our March and June offerings.
None of this would be possible without the support of Killik & Co and Corridy Property Management, whose sponsorship enables KCMS to prosper and to showcase the finest musical talent. Killik & Co offers award-winning advice for your savings, planning and investments and Corridy Property Management provides independent property management services in prime locations in London. For further details, see their advertisements in this programme and visit their websites.
To find out more about our season, please browse our brochure or visit our website. Tickets are available online and at the door for individual concerts, but the best value, as always, is to be found in purchasing a season ticket: this year priced at a very reasonable £80. As always, generous discounts are available for students and children.
William Vann, KCMS Chairman