Launch of our Virtual Concert Series 2021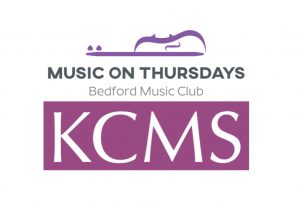 Kensington and Chelsea Music Society and Bedford Music Club are delighted to be collaborating on an exciting new series of virtual concerts in January & February 2021.
Opening with a song recital by mezzo-soprano Katie Bray, the 2019 Cardiff Singer of the World Audience Prize Winner, the series continues with a violin recital with rising star Mathilde Milwidsky, and a fascinating piano programme with Simone Alessandro Tavoni. All concerts are live at 6pm, but can be rewatched up to a month later.
​
The concerts will be streamed live from the 1901 Arts Club in London and subsequently made available on YouTube. There is no charge for watching, but we hope that anyone watching will feel inclined to donate via GoFundMe and help cover our total costs of £1,500. If we exceed that figure, the surplus will be split between the artists and the two Music Clubs. A suggested donation is £10 per concert, or £25 for the series. If you would prefer to donate via a different channel, please get in touch via the contact page.
We very much hope you will support this exciting venture by "attending" the live streams, by giving generously, and by passing the message on to your family and friends. Donations collected on this page will be sent to KCMS, which will pass on 50% to BMC, also a registered charity.
Past news:
19th May 2020: KCMS released a musical message on YouTube to mark what would have been the final recital of our 2019-20 season.
Message from the Chairman:
I hope you, your family and friends are all well and coping with these strange times. We were so disappointed last month to have had no option but to cancel the remainder of our 2019-20 season. Plans for our 2020-21 season are underway, though we are keeping an open mind at the moment as to when to reopen. The safety of our audience is of paramount importance, and we will be careful to ensure that we only reopen when it is safe to do so.
However, I am delighted to announce that in the meanwhile we have prepared a short "musical message" for you. I am extremely grateful to the artists who have participated alongside me, who are:
Ciara Hendrick – mezzo-soprano – who performed at the opening concert of our season in October
Guy Johnston – cello – who would have been performing at tonight's concluding concert to our season
Simone Alessandro Tavoni – who performed for us in February, and is a KCMS committee member
I hope you enjoy our programme, and it provides you with some comfort. The message can be viewed here.
Until we see each other next, stay safe, let us know if you have any questions about KCMS and keep checking this website for updates from the summer onwards.
With all best wishes,
William Vann, Chairman, KCMS and all the KCMS committee
~~~~
2019-20 will be KCMS's 59th season, and we are delighted to present another superb series of concerts. We have, as always, an outstanding mixture of new and established artists, performing an immensely varied and exciting programme of chamber music, song and choral works from the 15th century to the present day. Owing to the renovation of Leighton House in 2020, we will be holding our concerts in four different venues over the course of the season: the opening two evenings will take place in Leighton House as usual before we move to Killik & Co.'s unique music room in Mayfair, St George's Church in Campden Hill and the Austrian Cultural Forum. Please keep an eye on where each concert is taking place and get in touch with us if you have any queries about access.
All our concerts will continue to start at 7.30pm and include interval drinks.
We will also continue to give three young, local musicians "Five Minutes of Fame" slots over the course of the season in association with theWandsworth Young Musician of the Year Competition. Suppor ting young talent is at the forefront of KCMS's objectives.
Our concerts are brought to you with the kind sponsorship of Killik & Co and Corridy Property Management. Their generous support enables KCMS to prosper and to showcase the finest musical talent. Killik & Co offers award-winning advice for your savings, planning and investments and Corridy provides independent property management services in prime locations in London. For further details, see their websites.
To find out more about our 2019-20 season, please browse our website. Tickets are available online from WeGotTickets and at the door for individual concerts, but the best value is to be found in purchasing a season ticket at the very reasonable price of £95: do so, please use the contact page.
KCMS is a Registered Charity No. 291038